As per my old article here about UX Design, I believe that there's something missing, especially for the Perceptual Control part ..
How come defending the users' rights and in the same time controlling their perceptions ?!
I believe that the other way around makes more sense, by measuring the User Experience in order to improve Usability, and by getting efficient Usability we create superior User Experience ..
In other words, Usability is the actual key, always has been !
Neither Usability nor User Experience needs to be designed ..
Usability needs engineering, and User Experience needs measuring ..
But both applies to an interactive product, and that is the only part which needs to be designed, as in Interaction Design ..
Usability defines the extent of use (satisfying context) ..
User Experience defines the perception of use (responsive feelings) ..
Usability creates User Experience ..
User Experience emphasizes Usability acceptance ..
Usability Engineering researches the ease of use ..
User Experience Design .. hold on
I was wrong, User Experience cannot be designed (why?), but we can Design for the User Experience, in which case, we should refer to Interaction Design instead ..
Interaction Design harnesses Usability to exceed desirable expectations from User Experience ..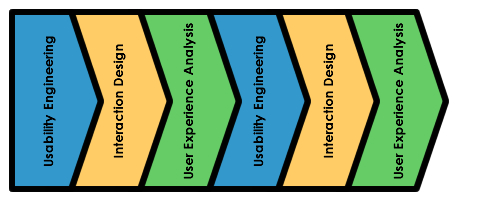 It all starts with Usability Engineering then, interesting !
According to Wikipedia, common usability evaluation methods include:
Usability testing (Gold standard of Usability Engineering, but the most involved and expensive method)
Interviews
Focus groups
Questionnaires/Surveys
Cognitive walkthroughs
Heuristic evaluations
Rapid Iterative Testing and Evaluation (RITE) method
Cognitive task analysis
Contextual inquiry
Think aloud protocol
Online Resources: